We are on Holidays from 21-12-2022 to 03-01-2023. No order will be shipped during this period.
UK Scooters, 1st choice for Lambretta & Vespa scooter parts
---
Welcome to UK Scooters, your one stop shop for all your scootering needs. We have long been established as a leading importer and distributor of scooter products to customers throughout the UK. We stock a range of parts for Lambretta and Vespa scooters
Our aim is quite simple, to provide a high quality product at lowest possible prices along with a fast and efficient service. All orders are despatched promptly from our UK based warehouse. Our dedication to meeting demands has always surpassed all expectations.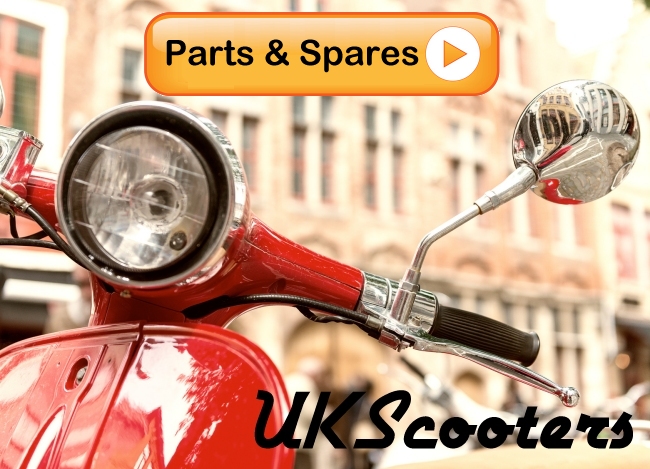 ---
Address: The Scootering Ltd, Unit 4, Frederick William Street, Willenhall, WV13 1NE, West Midlands, Company Registration No-07426461, VAT Registration No-205967003
Phone: 01902 633636
Email: thescootering@gmail.com
---
UK Scooters Reviews
Thanks Fellas,brilliant service.Will definitely order from you again.
ian bunting, uk
My px200 gear box and primary drive came today ,top quality parts , very quick postage and help and advise on phone was very helpful,will use them again .
Paul Smith, scotland
I desperately required parts ( spare wheel, plug, pillion footrests and rear crashbars) for my scooter before a weekend away. The parts came next day delivered before 12.00 p.m, boxed and neatly wrapped. Great service from start to finish, I cannot recommend you enough. Well done and thanks.
Dona Scott, Newcastle
Muchas gracias. ?Como puedo iniciar sesion?
irtfscfxrw, xounzsbwsq
I just wanted to let you know that the helmet, goggles and gloves have all arrived safely thanks.
Michael Gorman, Scotland, Dundee
Super quick delivery service. Great communication. Staff knew exactly what parts I required.
Nicole Flint, London
Good guys will do lots of business .they don't mess you around
Alex barclay, Scotland
Excellent shop and the owner is so helpful, I highly recommend to anyone. Everything I've brought as been great 10 out of 10 �
Stuart Hollyhead, United Kingdom
Used these guys for a while now since my previous supplier of over 10 years started to get things wrong on a regular basis (bet you can't guess who that was)? Very happy with the service received from UK Scooters so far. Well packaged quality parts which are delivered very quickly. Keep up the good work guys.
Nigel Lockett, UK
Absolutely brilliant service /feedback & honesty. Top parts Brill delivery.excellent value. Will definitely purchase from this company again. Well done.
Pete stabler, Uk